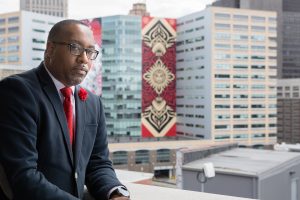 Shawn Lee
Detroit, MI
[email protected]
shawnleestudios.com
Shawn Lee, Cr. Photog. is the founder and owner of Shawn Lee Studios in Southfield, MI. Shawn is a photography instructor for Schoolcraft College in Livonia, Michigan and is the CEO/President of the Multicultural Association of Professional Photographers(MAPP). He is the founder of The ROCK THAT Photography Conference & Tradeshow, the only national level recognized conference geared toward diversity which hosts photographers from around the country for 3 days of high level instruction in Detroit, MI. Shawn is a featured speaker for Miller's Professional Imaging and director of photography/producer for TEDxDetroit.
Why you should take this class:
High School Senior Workflows and Business
Lighting, Shooting & Posing and Best Practices
Marketing Strategies & Concepts, Maximizing Profits by Serving Clients Extremely Well
 The Art & Business of HS Senior Photography
Shawn Lee
Course Number: 23
Level: All Levels

The Art & Business of HS Senior Photography: Strategies, Workflow and Live Shooting Techniques that will take Business to the Next Level.
From session to post production to final sale, Shawn will go through everything that makes him relevant to his clients and potentials.
Shawn will tell the story of how he thrived and exploded his business in Detroit at a time when the city was and still is the nation's largest municipality ever to go through bankruptcy.
It takes innovative thinking, relationship building, the creative use of photography skills and a NO QUIT, NO DIE ATTITUDE to build a niche that will thrive no matter the environment or economy. He'll do live shooting techniques that anyone can manage, show you simple post production techniques and workflow to help you process more while keeping the photos amazing, hence heightening your bottom line.
Shawn will also talk strategies for getting the best out of a sales session, so you don't leave money on the table. If you're not ready, you betta' get ready! This will be the hottest stuff on the planet! ROCK THAT!