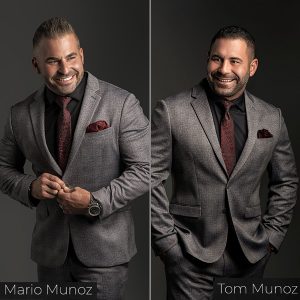 Mario and Tom Muñoz
Ft. Lauderdale, FL
munozphotography.com
Tom and Mario Munoz are 4th generation photographers best known for being masters of in-camera artistry. Growing up in the photographic industry, they began assisting their father at events at the young age of seven. Currently, they are two of the highest international award-winning wedding photographers in the world according to Professional Photographers of America (PPA) and Wedding and Portrait Photographers International (WPPI).
Both Tom and Mario received the honor of being named "PPA Diamond Photographers of the Year" while also winning 1st, 2nd, and 3rd place in the Wedding Album category and 1st place in the Wedding Image category at the 2020 Grand Imaging Awards. Just a few months later, they went on to win 1st Place Single-Maker and 1st Place Multi-Maker Wedding Albums at WPPI's 2020 annual competition. Recently, they took home 1st, 2nd, and 3rd place in the Wedding Album category at the WPPI 2021 competition. The brothers have also represented Team USA in the World Photographic Cup for weddings each year since its inception.
However, it's not the numerous awards and accolades that motivate Tom and Mario. They use competition to challenge themselves as artists, which only further fuels their never-ending pursuit of knowledge. Now, the business savvy dynamic duo is excited to share with you this knowledge, which has led to the tremendous success of their multi-million-dollar photography empire.
For Love and Money!
Tom and Mario Muñoz
Course Number:  22
Level: All Levels

This class is about photography for the fearless!
Brothers, business partners, prestigious award winners, and the yin and yang of the multi-generational family run Munoz Photography, Tom and Mario Munoz will be leading this exclusive workshop that's sure to benefit novice and seasoned photographers alike.
Learn how to become a master image maker in a diverse range of locations and subject matter. Increase your profitability as you gain a better understanding of the industry and how to capitalize through your relationships with clients. Gather invaluable inspiration and skills that will further your creativity and improve your photography problem-solving abilities.
In just five fun and jam-packed days, you'll be learning a wealth of information from these world-renowned photographers – and whether you're a wedding, commercial, or portrait photographer, this workshop will give you all the insight you need to hit the ground running, guaranteed!