Journey through the enchanting realms of Santa, Magical Fairies, and Fine Art Portraits.
The Art & Business of Themed Photography: A Comprehensive Week-long Journey
Chris & Lori Fritchie
Course Number: 16
Level: Intermediate to Advanced
Dive into a transformative week with Magic Makers Studio, where we unravel the secrets behind our internationally acclaimed themed photography sessions.
Throughout this immersive week, participants will journey through the enchanting realms of Santa, Magical Fairies, and Fine Art Portraits. We'll delve deep into the art of stylization, ensuring each session is meticulously crafted to capture the essence of the theme. Lighting, a crucial element, will be explored in depth, teaching you to illuminate your subjects in ways that breathe life into your images.
But capturing a beautiful image is just the beginning. Our editing masterclasses will equip you with the skills to enhance and refine your photographs, turning them into award-worthy pieces. From the soft glows of fairy dust to the rich tones of a fine art portrait, you'll master the nuances of post-production.
However, in the world of professional photography, creating stunning images isn't enough. Success hinges on your ability to sell your art. Our sales modules are designed to transform you from a photographer into a successful photography entrepreneur. Learn the strategies we've employed to not only create art but also to sell it effectively.
Join us at Magic Makers Studio and embark on a journey that promises not just to hone your photography skills but also to lay the foundation for a thriving photography business. Discover the magic, master the craft, and turn your passion into profit.
Why You Should Take This Class:
 Themed sessions – how to create the set, run the session, edit the images.
How to market your themed sessions – The #1 Secret most photographers don't know about marketing.
SALES! Don't fall into the trap of learning to create great images and not learning how to sell them!
Meet the Instructors: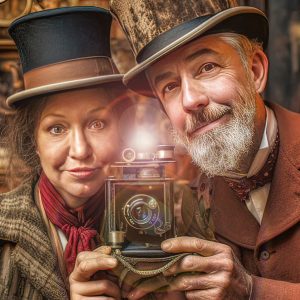 Chris and Lori Fritchie
McKinney, Texas
[email protected]
magicmakersstudio.com
While many recognize Chris and Lori for their award-winning "Magic of Santa" program, their expertise extends far beyond the festive charm of Santa. Recent accolades include winning the "Top Portrait of a Child" in TPPA with their mesmerizing fine art images. Moreover, their Santa portrait not only clinched the "Best Portrait of a Group" title in TPPA but also stood out as the highest scoring image in the recent Georgia Professional Photographers annual competition.