How much is the tuition for Texas School?
Tuition for the school is $750 which includes evening meals, 5 days of class, the trade show and much more.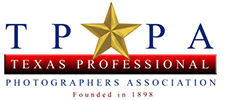 Discounted tuition is available for Texas Professional Photographers Association (TPPA) members who have paid their dues for 2024.
Discounted tuition for 2024 TPPA Members is $630.
To join TPPA or to renew your membership, click here to visit our Membership Services Site.
Remember: $25.00 late charge for payment received after February 15, 2024.
How many instructors can I sign up for?
You are with one instructor for the entire week.  When you register, you will list your top three class choices.  Many classes are in high demand and are filled on a "first come, first served" basis.  Literally, we sometimes have 75 people register for a class in the first few seconds after registration opens.  We do our absolute best to put you in your first choice, but in some cases, you will be placed in your 2nd or 3rd choice.
When will I find out what class I got into?
Confirmation letters are usually sent out within a week or two of registration.
Can I switch classes once I'm registered?
You may switch classes before Texas School starts provided the other class has room. Once Texas School starts, you may NOT switch classes.
What is the closest airport?
DFW and Dallas Love Field are the two airports that serve the area.  Dallas Love is a little closer to the hotel, but DFW is not that much further that is makes much difference which airport you choose.  It is pretty easy to connect with others to share rides from either airport.  Choose which ever one has the best travel schedule and airfare for you.
So what about the evenings at Texas School?
Texas School is unique in that it balances an intense week of study with a healthy dose of fun.  You work all day, but the evenings are for networking with photographers and vendors, letting your hair down on the dance floor, getting together in small groups to share ideas and ask questions or practicing the new skills you learned during the week.  No matter how you spend your evenings, you are immersed in the world that is Texas School and the culture of success.  Remember, all evening entertainment and all evening meals are included with your tuition.
What equipment do I need to bring to class?
Your instructor will contact you about 8 weeks before class with a list of specific equipment you need to bring. Some classes require just a notepad, while others require a full computer setup and camera gear.
I am not a professional photographer.  Can I still come to Texas School?
Absolutely.  We know that many come to the school to look into becoming a professional photographer.  Others come because they simply want to get better at the craft of photography. Of course, we have a huge population of professionals who return year after year to sharpen their skills and to learn how to improve their bottom line.  At Texas School, we have something for everyone, and there is no better place to learn than from our top photographic instructors.
The classes are labeled "Beginner, Intermediate and Advanced",  How do I know which one I am?
There is nothing worse than getting into a class that is over your head.  This is why you should do an honest self-evaluation of your skill set before you choose your class.  Read the descriptions carefully and determine if you fully understand the instructors objectives.  If you are still unsure, get on our Facebook Page and ask other students who have taken the class to help you decide.  You can also reach out directly to the instructor, or call the Texas School Director or the TPPA Office.  Both numbers are listed in the Contact Us section.
Can my spouse/significant other come to class or evening events with me?
He or she may attend the evening events with the purchase of a meal ticket. They cannot attend your class without registering as a student as well.
What all is included in tuition?
Your tuition covers the entire week of top-notch education, evening events including food and drinks (beer, wine, soda, etc.), several Texas School t-shirts, class and school-wide commemorative photos, special deals on equipment, plus an experience that will last a lifetime!
What is the cancellation policy?
Any class cancellations must be made in writing and addressed to:
TSPP Director, Don Dickson
1501 W. 5th St.
Plainview, TX  79072
Please observe the following:
TSPP 2022 Cancellation Policy:  Any class cancellations must be made in writing and addressed to:
Before January 20th – Full Refund
January 22 – March 21 –  $100 Cancellation Fee 
March 22 – April 3 – $200 Cancellation Fee 
After April 3 – No refunds
Where can I find out information about finding a roommate?
If you are looking for a roommate to share expenses, please visit our Facebook page.
Do I have to stay at the Renaissance Dallas Addison Hotel?
The Renaissance Dallas Addison Hotel is the host hotel.  Staying at the Renaissance Dallas Addison Hotel is your BEST option for Texas School because a vast majority of the classes and events are held there. We also have negotiated a very attractive room rate which includes free parking and internet in hotel and meeting rooms.  Staying at the host hotel helps us keep the low tuition cost of attending Texas School.
Why are some classes held "off campus"?
We have used every square inch of available space at the Renaissance Dallas Addison Hotel, so a few classes have to be held at other locations. They are not far from the Renaissance Dallas Addison Hotel and many people either walk or carpool to their classes.
Are there shuttles from other hotels to the Renaissance Dallas Addison Hotel?
No. It is recommended that you stay at the Renaissance Dallas Addison Hotel where there is free parking and free internet in hotel and meeting rooms.
Do I have to attend the evening events?
You do not have to attend the evening events, but you will miss out on a LOT if you stay in your hotel room the whole time! Come on down and enjoy getting to know your classmates and everyone else! Experienced Texas School attendees know that learning and networking isn't just in the classroom!  Plus, the evening events are incredibly fun and relaxing! And don't forget, they are also FREE!!
Where can I get more information about what happens during the week?
There is a schedule posted on the website at www.texasschool.org .