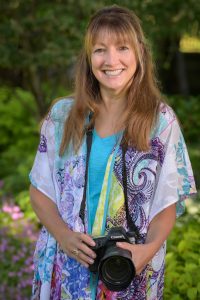 Jackie Kramer
St. Augustine, Florida
[email protected]
luvblooms.com
Jackie has received international recognition and awards for her artistic and colorful floral photography. Based in St. Augustine, FL, she runs an online group called Phlorography with over 6,000 members from around the world which offers members a sense of cameraderie and "phloral" inspiration.
Why you should take this class:
How to approach and shoot a subject taking into consideration subject, environment, lighting, and elements to achieve selective focus for beautiful images.
Creative techniques, which include use of Lensbaby optics, lightpainting, lightpads, in-camera movement, abstracts, multiples in-camera (for those whose bodies have that capability), and making your own textures.
Edit your images with Adobe Lightroom and Photoshop to make them uniquely yours.
Artistic Floral Photography
Jackie Kramer
Course Number: 22
Level: All Levels

Elevate your floral images to works of art as you embark on a journey of discovery in the garden (Dallas Arboroetum) with Jackie, as well as indoor sessions, and finally in the post-processing stage. We will begin by identifying interesting subjects, paying close attention to their surroundings and light. Making the most of lines, colors, and composition, you will learn to bring out the character in the flowers by modifying available light and/or enhancing it to create pleasing effects. We will also focus on technical issues such as depth of field, lens choice, and vantage point. Lensbaby optics will be available for those interested in experimenting with bending the light with the Sweet optics or an ethereal glow with the Velvets.
In addition to making beautiful images of floral subjects, we will explore the art of making texures to add artistic flair in post –processing. Everything comes together in the digital classroom with Adobe Lightroom and Photoshop. Plan to create images that you can't wait to print and hang!
[Note that one must be familiar with Lightroom and have at least a basic understanding of Photoshop. Beginners will be able to follow along during Photoshop demonstrations or may use that time to continue shooting or editing in Lightrooom. Also, efforts will be made to have Lensbaby loaners available for all body styles, but this cannot be guaranteed.]