This class will teach you how to start a drone business.
Foundations of Starting a Drone Business
Robert Norwood and Glenda Beckwith
Course Number: 25
Level: Beginning
Introducing our comprehensive drone photography class! Learn the essentials to pass your FAA Part 107 certification, including regulations, airspace, weather, and more. Register your drone, unlock DJI geofencing, and discover apps for controlled airspace and liability insurance. Gain hands-on experience with flight maneuvers, including night flying. Explore real estate, commercial, and landscape photography applications. Don't miss this opportunity to enhance your photography business with drones!
Discover how to boost your business's profitability by incorporating drones. Learn how to effectively price your drone footage, whether it's stunning photos, captivating videos, or a combination of both. Explore the diverse range of industries that rely on drones and be amazed by the countless opportunities available. Uncover strategies to market and network with companies in need of drone services. Plus, find out how you can earn passive income by capturing breathtaking landscapes and cityscapes from a unique aerial perspective. Don't miss out on this exciting new market – take your business to new heights with drones!
Don't have a Drone, wait until Texas School and get it there!
Why You Should Take This Class:
Study and earn FAA 107 certification
Examine what drone is best for you, set it up and learn basic flying skills
Discuss business models with practical application for your business
Meet the Instructors: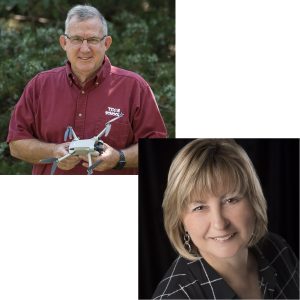 Robert Norwood and Glenda Beckwith
Robert Norwood
Livingston, Texas
[email protected]
Glenda Beckwith
Mansfield, Texas
[email protected]
G4mediagroup.com
Robert has been a professional pilot for 40+ years. He has enjoyed photography for many years and with the introduction of widespread use of drones, He has helped many to become FAA certified drone pilots though Texas School pre-cons and other classes.  While doing this he received his PPA Photographic Craftsman degree and PPA Certified Drone Photographer certification. In 2023, he was awarded the PPA National Award for Meritorious Contributions to Professional Photography.
Glenda Beckwith is a seasoned professional photographer with a 40-year track record. She kickstarted her career shooting weddings and later transitioned into portrait photography, specializing in high school seniors. Glenda's adaptability led her to expand into commercial photography and incorporate drones into her work. As a Master Photographer and a licensed 107 drone pilot, Glenda continues to innovate in her field, delivering high-quality photographs across various genres.