Capturing Success: The Fusion of Business and Photography
Jamie Hayes & Mary Fisk Taylor
Course Number: 21
Level: All Levels

Join Jamie Hayes and Mary-Fisk Taylor, two highly accomplished professionals in the photography industry, as they share their combined experience of over 25 years in their program. With a focus on the seamless integration of business and photography, they provide invaluable insights to help you achieve your goals.
During the morning sessions, you will gain access to clear and practical business techniques. Mary, armed with her expertise in branding, marketing, and sales, will guide you in establishing and managing your brand effectively. Drawing from her certifications as an accomplished entrepreneur, educator, StoryBrand Guide and a Profit First Professional, she continuously updates her knowledge to navigate the dynamic landscape of small business ownership. Mary will unveil proven marketing and promotional strategies that yield efficient and highly effective results. She will also empower you to leverage data-driven approaches to set sustainable and profitable pricing models. Additionally, she will share strategies and techniques to enhance your success in the sales room, ensuring your photography business thrives.
The program goes beyond business fundamentals, delving into the creative and technical aspects that define exceptional photography. In the afternoon sessions, you will master lighting techniques both in-studio and on location, ensuring consistent and breathtaking results in every image. Jamie will guide you in helping your clients look their best through effective posing and flattering lighting. By simplifying the technical aspects of your sessions, you will have the freedom to focus on capturing the perfect shots and delivering an unforgettable experience to your clients. Furthermore, he will emphasize the importance of photographing with the end goal of a successful sale, as the ultimate measure of your business's triumph.
Under the guidance of Jamie and Mary, you will not only gain access to their wealth of knowledge and experience, but you will also benefit from their genuine and passionate approach. Their unwavering commitment to your success ensures that they go the extra mile to help you develop a solid plan to achieve your goals and #BeMoreSuccessful.
Capturing Success: The Fusion of Business and Photography is an immersive program designed to equip you with the skills, techniques, and mindset necessary to excel in both the artistic and business aspects of photography. Embark on this transformative journey and unleash your full potential as a successful photographer.
Why You Should Take This Class:
Gain Business Mastery: Learn essential techniques to establish and manage your brand, implement proven marketing strategies, set sustainable pricing models, and enhance your success in sales.
Elevate Your Photographic Skills: Master lighting techniques for studio and on-location photography, develop effective posing methods to flatter your clients, simplify technical aspects for a seamless session experience, and shoot with the intention of achieving successful sales.
Fusion of Business and Photography: Discover the synergy between business and photography as you understand how to blend your creative and technical skills with sound business practices, ultimately capturing success in both realms.
Meet the Instructors: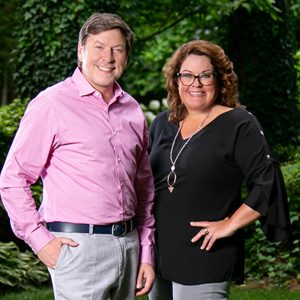 Jamie Hayes & Mary Fisk-Taylor
Richmond, Virginia
[email protected]
hayesandfisk.com
Joining forces over 20 years ago, the team of Jamie Hayes and Mary-Fisk Taylor have become a dynamic duo of photography. By combining Jamie's extensive photographic experience, and Mary's unparalleled creative marketing and business management skills, they have built two highly successful studios! They gross well over $1,000,000 in professional photography and hope to share their process, dedication and journey to success with you.