Portraiture The Güd Way
"PG" Phaneendra Gud
Course Number: 19
Level: Intermediate to Advanced

Do you have difficulty achieving quality images in-camera without having to correct them in Photoshop? Do you struggle to transform your captures in post-processing to convey your vision? Would you like to achieve the best quality prints of your images, whether you print on your own or from labs?
In this class, PG will be sharing his award-winning portrait creation secrets.
Learn the complete workflow and all the details that go into capturing, enhancing, and printing portraits. Capture to take advantage of the dynamic range of your camera, edit to retain the necessary tonal range in your prints, and print on the medium that translates your vision to reality.
What you will learn:
* Techniques to achieve efficiency and consistency in your portrait photography workflow
* Understand practical application of inverse square law
* Capture images with quality and contrast of light that will result in beautiful prints
* RAW file processing for optimum dynamic range.
* Using actions to speed up your retouching workflow
* Magazine quality skin retouching with Dodging & Burning and Frequency Separation
* Color Grading to achieve the desired mood
* Finishing techniques to bring a dramatic feel to your image
* Determining the dynamic range of a paper
* Choosing the right paper for prints
* And more
This class is not just about learning the techniques but also about learning the 'WHY' and adapting the techniques to your style of images. After this class, you will approach portraiture differently.
Why you should take this class:
Understand the elements that go into capturing a compelling portrait
Post-processing techniques to transform your vision
Printing techniques to make your vision a reality
Meet the Instructor: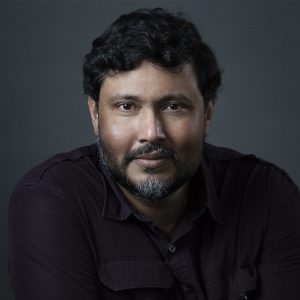 "PG" Phaneendra Gud
Plano, TX
[email protected]
gudphotography.com
Phaneendra Gudapati is a portrait artist located in Plano, TX. He is inspired by classical portraiture, paintings by old masters and fashion and loves to create a fusion between fine art and fashion in his work. PG is a PPA Master of Photography, Master of WPPI, PPA Photographic Craftsman, Certified Professional Photographer and Adobe Certified Photoshop Expert.