Art. Passion. Purpose.
Tim Walden & Audrey Wancket
Course Number: 30
Level: All Levels

In today's overcrowded market where everyone is a "photographer," it is urgent to separate yourself from others down the street.
What you will learn in this class will help you carve out a distinct place (brand) for yourself, from technical information, to marketing principles, to savvy sales techniques, to help your business succeed.
This week, you will learn how to create beautiful, investment worthy imagery as you see Tim and Audrey demonstrate different types of studio lighting that will elevate your portraiture to new heights, as they shoot several sessions during the week.
In addition, learn posing from both in this class as they work with models to create breathtaking portraits, each in their own style.
Posing is not just arranging, but understanding how to communicate with your clients. Both Tim and Audrey will share tips on handling all types of personalities in the camera room, invaluable information for you to take home.
See how emotional connections create true value that keep you in high demand, allow you to charge premium prices and separate you from the masses.
Focus less on the photograph, more on the result.
This class will concentrate on creating value, not volume and how to attract the right clients who love what you do and will spend what it takes to have your portraits in their homes.
This is why we will each discuss ways to create a higher sense of value and how we pre-educate our clients on the artistry and craftsmanship that goes into each portrait before they step through the door.
Can you imagine the luxury of spending more time with fewer clients, making more money with each session and creating a strong emotional connection that brings that same wonderful client back time and time again?
Learn from two highly successful artists, each with uniquely different and highly defined brands, yet with similar thoughts on how to create stunning images, marketing that attracts great clients who are loyal for life and sales that will keep you in business for years to come.
This program has been built for such a time as this.
Why you should take this class:
Learn from Tim and Audrey how each use their own style of lighting for stunning results. Going hand-in-hand with lighting is posing, as each demonstrate how they get dynamic portraits with any subject.
Learn how to successfully market investment-worthy art that speaks to the right client. Topics include being unique, telling stories (how and why), how marketing has dramatically changed in the past few years (you must stay relevant) and how building and nurturing client relationships is still one of the BEST ways to market.
Selling a high-end brand to a high-end clientele is a skill in itself. What's the approach? What should you say and do? How do you deal with different situations and personalities? Learn the answers to these questions and so much more with these two amazing portrait artists who bring it all home with their sales techniques that have brought them financial success.
Meet the Instructors: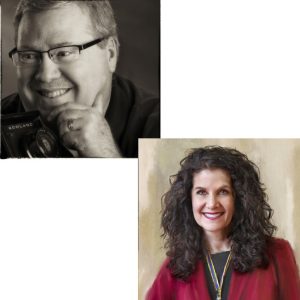 Tim Walden & Audrey Wancket
Tim Walden
Lexington, KY
[email protected]
timwalden.com
Audrey Wancket
Spring Grove, IL
[email protected]
wancketstudios.com
Tim Walden
Tim took over Walden's Photography from his father in 1980, taking the studio in an entirely different direction when he developed the Walden trademark "Relationship" Black and White Fine Art portraiture. Today, he and his wife Beverly run a high-end studio, providing beautifully crafted images for their clients as well as traveling the world teaching and sharing with other photographers
Audrey Wancket
Audrey is celebrating her 35th year as a photographic portrait artist. Inspired by the "Old Master Painters", combined with a strong academic background in fine art, Audrey has brought to her photography a timeless beauty.  Audrey's portraits have earned her numerous awards at the state and national levels, which has made her a sought-after speaker to amateur and professional photography groups across America.  Audrey's philosophy to "never settle for good enough" has been instrumental in the reputation she has earned in her business, Wancket Studios